Stony Hill Church From 1800-1964
by Alberta Lowder Boggan © 2008
also the author of Our Children's Heritage.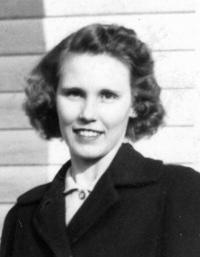 Alberta Boggan
My perception of Stony Hill Church history was formulated after researching the church records, exchanging notes with Kirk Shaver, and talking with my elders, mainly my mother, Maude Forrest Lowder and Harry's aunt Lilly. However I know there is much that I do not know about the history of our church. I will share the knowledge that I have.
Stony Hill Church was organized around the early 1800's at Tindalsville, the county seat of Montgomery County. Tindalsville was located in the area that later became Lowder's Ferry. It is believed the founding fathers met in the home of George and Martha Kirk for the organizational meeting. It is also believed that the first services were held in an oak grove, where the first log building was constructed. It was located on a four-acre rocky knoll, thus the name Stony Hill. The location was just east of the Kron home and about 200 yards north of the marker that designates the Will Lowder place, in Morrow Mountain State Park. This early church was on the Rocky River circuit, and was served by a circuit rider.
The church remained in this location until around 1840. Stanly County was being formed at this time. The county seat of Montgomery was moved to Troy. Tindalsville began to fade into history. The church was moved to the Daniel Christenbury Kirk farm. The church was moved again in 1885, one-fourth mile north to its present site. Josh Postal Kirk gave the land for this location.
The church building contained only the sanctuary and vestibule. The sanctuary was light and airy with clear glass windows. Oil lamps, mounted on the wall by each window, lighted the church. Two wood heaters heated the church. They were situated on on each side of the church aisle, just a little closer to the pulpit than to the entrance.