Bon and Ardelia Cranford
Bon C. Cranford and Ardelia Stoker Cranford, deceased, but long-time church members of Stony Hill UMC, are the parents of Ernest Bright Cranford, deceased, Lucille Cranford Mullinix, deceased, Gertrude Cranford Tucker, deceased, Nell Cranford Burris, membership still at Stony Hill UMC, and Henry Gay Cranford, deceased. They have 9 grandchildren. Bonnie Mullinix Springer, Barry Thomas Mullinix, and Gay Nell Burris are members of Stony Hill UMC. Bonnie is married to Henry Myron Springer; Barry is married to Vanessa Wilson; and Gay Nell is single.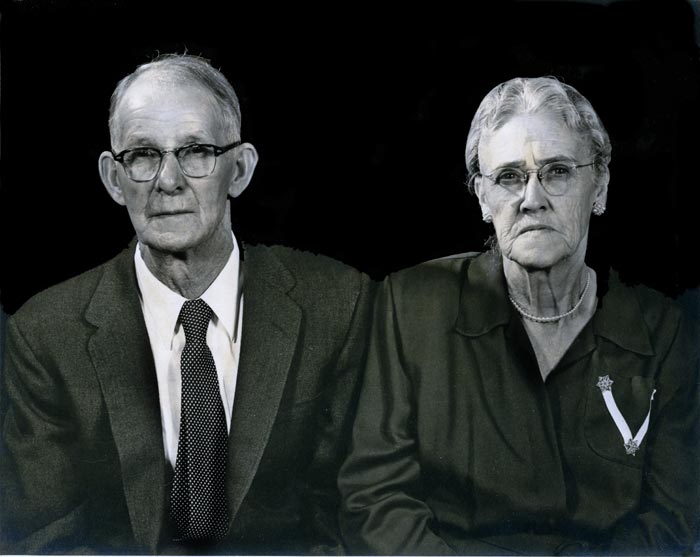 Bon and Ardelia Stoker Cranford
Bon C. Cranford, a skilled carpenter, built quite a few homes in the Valley Drive/Morrow Mountain Road area. One of which was his own home on Morrow Mountain Road at Valley Drive; as well as the Burse Mullinix home on Valley Drive. (Note Burse and Janie Stoker Mullinix are also grandparents of Bonnie and Barry.)
Mr. Cranford built the house, on Valley Drive, where Henry and Bonnie now make their home. This home was built in the mid 1920's for a British couple, Mr. and Mrs. W. W. Moffett, who resided there for approximately 10 years. T. B. Mullinix, Jr. and Lucille Cranford Mullinix were married in 1934, and purchased the house from the Moffetts in 1935. They raised 3 children there: Bonnie, Ned (Edward Nelson) and Barry. Mr. Cranford renovated this house about 1951, and added 2 rooms, a partial basement and an attic so the Mullinix family could have more living space. Lucille and T. B. died, 1964 and 1999, respectively. In 1999, Bonnie inherited this home place. In 2001, upon Henry and Bonnie's retirement, they renovated the home, to make it more to their style of living. No, Bon Cranford was not around to help with this project. Henry and Bonnie feel very blessed to be able to have this home for their retirement years. (Just in case you are wondering, Bonnie was born into this home, her parents had been living there for a year or so, so this house is around 83 years old.)
Bon Cranford also built the Moonset Inn at the northeast corner of Valley Drive and Morrow Mountain Road in 1939; six years after the US Congress repealed the prohibition amendment. The Moonset Inn became a popular gathering spot in the southern piedmont. A grocery store was operated on the north end of the Inn. Later the Inn was converted totally to a grocery store, run by Nancy and George Hanks. The building currently belongs to one of Cranford's grandsons, Bob Tucker, who has converted it to a rental unit.
Bon Cranford had much to do with the renovating of Stony Hill Church in the 1940's. His skills as a carpenter saved the church many dollars.
"Daddy Bon" and "Mother Cranford", (Ardelia was just too much of "mouthful" when we were young) as they were affectionally called, were what we call "good people". There was not much Bon Cranford couldn't do, and if his wife, or any of his family were in need of anything, if he could do it, it was done. Many of my memories of them are still very vivid in my mind, and I will always be grateful to have had them as grandparents.
Submitted by
Bonnie Mullinix Springer
May 2008