Pastor Michael "Lanny" Lancaster
Pastor Lanny was born and raised in Greensboro, NC. Lanny's family were active members of Rehobeth United Methodist Church where Lanny was raised in the Christian faith. Lanny was classically trained on the piano from the age of five, played keyboards, and sang in several Christian bands growing up. He was president of United Methodist Youth Fellowship, an active participant in Fellowship of Christian Athletes, and the Junior Civitans as a teenager.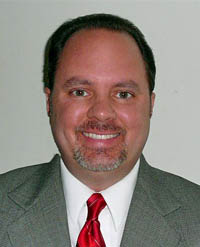 Pastor Lancaster
In college, Lanny was an active member of the Delta Sigma Phi Fraternity, for which he served as Chaplain and Coordinator of Philanthropy. Lanny earned a Bachelor of Arts in Psychology from High Point University in 1990, graduating as a member of Psi Chi, an honor society for Psychology majors. He was married to Janet Renee Byrd on January 5, 1991. After graduation, Lanny became a social worker for Guilford County Social Services. He served on various committees of the church, was a youth counselor, and wrote music, played, and sang in a Contemporary Christian band called The River. He taught Sunday School and Basic Christianity Classes at church and led a Bible Study at work. Janet and Lanny helped to start and lead a young adult class at their church.
After answering the Call to Pastoral Ministry, Lanny went to seminary at Duke Divinity School, serving as a student pastor for a two churches in Randolph County, NC. He earned the Master of Divinity Degree in 2000 and was ordained an Elder in the United Methodist Church in 2004. As a pastor, Lanny has focused on being a spiritual leader, teaching all levels of Disciple Bible Study, Companions in Christ, Confirmation Classes, Basic Beliefs Classes, along with many Biblical studies courses. He has led spiritual retreats for pastors and has led a Pastor's Covenant and Lectionary group. His greatest joys in ministry are Teaching and Preaching the Word of God in relevant ways, leading people to a first-time commitment to Christ, leading existing Christians to deeper levels of growth and discipleship, and teaching youth and leading them to commitments to Christ. Lanny has been on mission trips to the Gulf Coast and rural North Carolina.
Lanny and Janet are the proud parents of twin boys, Noah and Jacob. Lanny enjoys mountain biking and playing sports with the boys in the backyard.
updated 4/04/2012