Burse and Mary Jane "Janie" Mullinix
Tom Burse Mullinix, Sr. and Mary Jane Stoker Mullinix, parents of Selby Hartford Mullinix, and adopted son, T. B. Mullinix, Jr. T. B. was the biological child of John Hardister and Tenner Mullinix Hardister, (sister of Tom Burse Mullinix, Sr). Burse and Janie Mullinix adopted T. B. before he was a year old. The above are grandparents of Bonnie Mullinix Springer, Ned (Edward Nelson) Mullinix, and Barry Thomas Mullinix. Bonnie and Barry are members of Stony Hill UMC.
I use to get a "big kick" out of saying I had three sets of grandparents. Folk would look at me as if I were crazy. But I did have three sets of grandparents: the Mullinix ones, the Cranford ones, and the Hardister ones. Dad's biological father remarried. And we visited with he and his wife, Mary, and the children from that union rather frequently in my earlier years.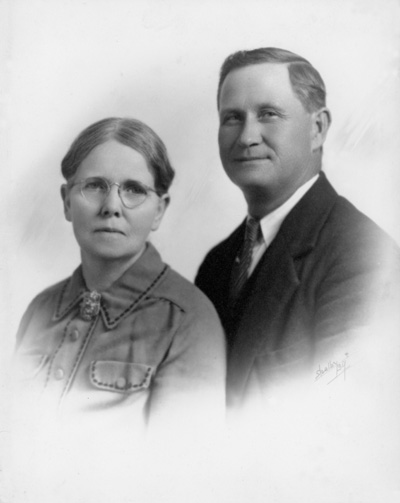 Tom and Mary Jane "Janie" Mullinix
"Daddy Burse" and Mother Janie", as affectionally called by their grandchildren were what I refer to on many occasions about dear folk, as "good people". "Daddy Burse" was a farmer and did some saw milling as a means of livelihood for his family. "Daddy Burse" had a keen sense of humor, and could "spin a yarn a mile long". Any event told by him was different every time he told it and we all laughed again and again. And did he ever like to fish, oh yes!
"Mother Janie" was a homemaker, and made the best ginger snaps and fried apple pies you could ever put in your mouth, as well as homemade noodles.
Their chickens "ran free of the place" so gathering eggs could be a challenge. Also, they did not have "indoor plumbing" in my earlier years, which was challenge of another sort. And they had big garden some distance from their home, and if you happen to be around at this time of year, well you spent your time in the garden as well. I can recall sitting on their porch with green beans, everywhere it seemed, and stringing and breaking them all day long. And since my hands were small, I got to wash all the jars for the canning.
For whatever reason, mainly I think because daughters seem to be closer to their mother's parents, I was, however, very fond of my Mullinix grandparents and have fond memories of them as well.
Submitted by
Bonnie Mullinix Springer
May 2008